As if we didn't have enough change with our recent move to a new house, change in schools, settling into a new ward, and everything that goes along with those things . . . I recently accepted a full-time position with the District Attorney's office. My first day was February 17, when I was sworn in by Sharen Wilson, the newly-elected District Attorney in Tarrant County.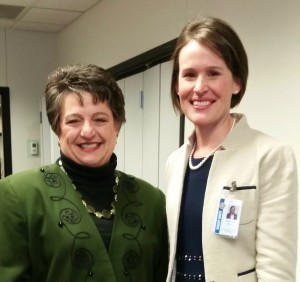 Judge Wilson and I go way back. I interned for her in Criminal District Court #1 back when I was in law school (circa 2007). I'm sure she doesn't remember me, but she had obviously seen my resume and made a good show of "remembering" me when I came to be sworn-in — she really is a great politician!
I wasn't looking for full-time work when this opportunity came knocking, although, I had thought about increasing my work load now that we were settled into the new house. I had also thought that I would need to find additional work or other activities to keep me occupied in the fall when Carter starts Kindergarten. But when Cindy Williams contacted me, asking if I would come work for her, my initial reaction was "no"! There was no particular reason why, simply being raised in a culture of Mormon women staying home with the kids and the negative stigma associated with women working full-time. I've never had a burning desire to be a stay-at-home mom, but I was comfortable with my life of play dates at the water park. Still, I just couldn't get the opportunity out of my mind. It soon became apparent that I wanted to say "yes" more than I ever realized.
My first summer of law school I interned for Cindy in the CPS division of the DA's office and she has been a mentor to me ever since. Cindy had just been promoted to Chief of the CPS division — replacing James Teel, who had been appointed as an associate judge in the Juvenile Court. So when she called, I didn't hesitate to tell her my concerns about balancing work and family. I knew that she had small children when she first joined the DA's office, in fact, Judge Brown had done the same thing to her when her girls were small as she was now doing to me, so she knew exactly what it was like! We spoke for about an hour about the expectations and her management style. In the end, I told her that I would think about it and let her know by the end of the week.
DJ and I talked about it, thought about it, prayed about it, and put together a plan to see if it was even feasible. In the end, we felt like this was absolutely the right thing to do. There was no doubt at all in my mind that this was the path for me.
We knew that it would be most difficult the first few months, that it would get simpler once school was out for the summer, but we were willing to make it work. And by "we," I really mean DJ because it was going to have the biggest impact on him. He was going to have to leave work everyday by 3:30 in order to pick up Carter by 4:00. He was going to be the one making dinner and doing homework with the kids. His enthusiastic willingness to take on this role made me feel like he not only recognized, but genuinely appreciated the sacrifices that I've made these past six years to devote all my time and energy to raising our kids. It means a lot to me.
In my first three weeks of work we have endured three rounds of the stomach flu (Raine, me, and Carter), three snow days, three early release days, and a host of other freak events. Our new normal feels a bit like an out-of-control carnival ride, but at least it's never boring! We have survived it all so far and I've found that I love my work even more than I thought I would so it's been worth the ride.