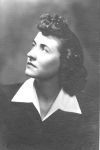 Tomorrow is Grandma McKay's funeral and since I will not be there, I wanted to share some of my memories of her.
My memories of Grandma always include her in the massive kitchen of her farmhouse — stoking the fire in the stove, chewing on a toothpick, and asking you if you need something to eat. In my childhood mind, Grandma was synonymous with food. I learned early that "if you go away hungry, it's your own fault." I doubt anyone EVER left Grandma's table hungry. Even if you tried it would be impossible because Grandma made you eat two courses beyond what would comfortably fit in any human stomach — she could always tell when you "needed" more mashed potatoes. And in Grandma's kitchen, ice cream was a vital part of every well-balanced meal.
Grandma always talked the talk of a hardened farm wife — something about the south end of a donkey going north

— but it wasn't hard to see that she was really as soft as they come. All those stray cats she cursed weren't there because that was the only farm in the neighborhood, they were there because Grandma always saved the best table scraps for them and kept their dishes full of milk.
One of the things that I admire most about Grandma — looking back in all my adult wisdom — is that she always knew what was important in life and never deviated from a straight course toward accomplishing her goals. To Grandma, the role of housewife was not just the unwanted side-effect of being a mother or something to occupy the time between more important activities. It defined who and what she was and everything she did was to ensure that she was the best at it that she could possibly be. She never half-heartedly did anything, be it scrubbing potatoes or tending her garden. I have learned a lot about the key to a successful life from her example.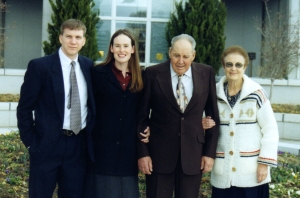 This is of photo of DJ and me with Grandpa and Grandma in front of the Mt. Timpanogos Temple the day I was endowed — March 2002. As a kid, I knew that when Grandma and Grandpa came down, it was an important event. They didn't leave the farm for just any old thing, only really special things, and they always had to hurry back home to take care of "pa's critters."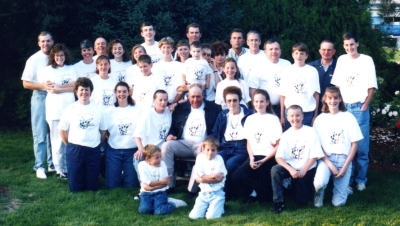 This photo was taken at Grandma and Grandpa's 50th Wedding anniversary in 1993. They were married 63 years when Grandpa passed away in 2006; this year would have been their 65th wedding anniversary. Amazing! I think their key to such a long happy marriage was that they worked hard and didn't take anything too serious. They knew how to laugh and honestly enjoyed everything they did.
I will miss Grandma and Grandpa, and the farm and the cows, but they have left me an enduring legacy of hard work to remember them by.