Saturday morning DJ ran in the "Bold in the Cold" 5k race. Let me set the stage for this aptly-named event:
Friday the high temperature was 80 degrees. Friday evening people were eating outside on the patios of restaurants and we were walking around in short sleeves. About the time we went to bed Friday night the wind started blowing, howling to be more specific. It was blowing straight down from the Canadian snow fields. At 7:30 the next morning, when we arrived at the race, it was about 35 degrees and the wind chill was in the 20's. While DJ was out warming up, Raine and I were in the car layering up. About ten minutes before the race we ventured out to the starting line to cheer for DJ.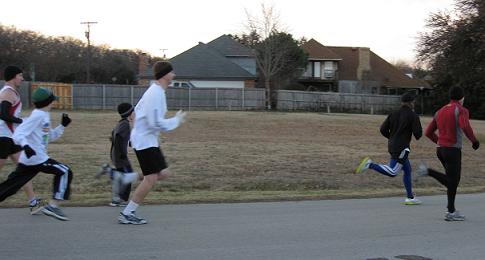 About twenty frigid minutes later he reappeared, striding toward the finish line, passing people as he ran.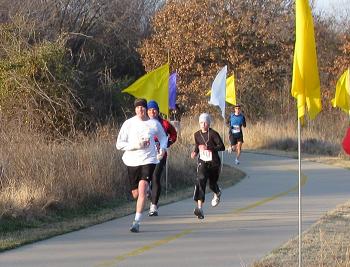 It wasn't DJ's fastest time, but he took third place in his age group — not bad for a guy with a newborn. Unfortunately, I don't have a photo of DJ receiving his medal, my fingers were so cold that I couldn't push the power button on the camera. But I did manage to capture the post-race celebration. Nice job DJ, you deserve the rest!