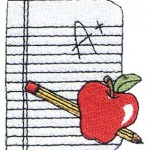 Teachers are the most important and yet the most under-compensated professionals. They spend more time molding the minds of youth than most parents do, yet their salaries are barely enough to live on and the resources available to them are frequently outdated, insufficient, and inadequate. That's why I decided to ask Mrs. Beal — a new fourth-grade teacher and the wife of our Bishop — if there was anything that I could do to help her. Raising one child doesn't take every minute of my day, but it is irregular enough that it prevents me from doing too much, so I figured that I could help her grade papers or something.
The past few weeks I have been grading math and reading assignments. My favorites are the reading papers. They are made up of ten multiple-choice and two short-answer questions testing reading comprehension. I don't have a copy of the story, just an answer key for the questions, so I can only guess what the story is about. The last assignment that I graded was about a school for the children of migrant workers. One of the short-answer questions asked how the teacher showed consideration for the students. The correct answer was that she let them move around because the benches they were sitting on were uncomfortable. The answers that Mrs. Beal's students gave, however, were a lot more colorful. Here are my top-ten favorite answers (complete with fourth-grader spelling):
10.  … by being in a good mood.
9.  She allways cares about them and she makes sher that her kids turn in there home work in time.
8.  … she shows equal attention to them.
7.  She shows consideration by hugging them and she said, "welcome to Camp Miller school.
6.  Miss Peterson entertains her students.
5.  Mrs. Peterson is nice to Janey and she seemes to make small talk and friendly conversations with her students.
4. She lets them clean the blackboards . . . and pick the withered blossoms.
3. Miss Peterson shows consideration by telling them great things about a horned toad.
2. She doesn't yell all the time.
1. She showes consideration because if you show a lizard to a teacher they would say get that away from me but that teacher did not. When Jany found the lizard she let her keep it and she helped name it.