Final Update: It's official, I got slaughtered. We'll see how Raine does next year when she should be old enough to make picks based on mascot. That'll be fun!
Raine – 88
Kim – 82
DJ -79
Update: Heading into the Final Four the scores are as follows:
Raine – 77
Kim – 77
DJ – 67
I'm getting my butt kicked. This is the first time since we've been married that I'm not going to win, so I'm feeling a little down about that. Raine has sure backed up her trash talking so far, but we'll see if she can hold on for the win.
________________________________________________________________________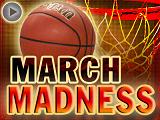 It's that time of year. People everywhere fill out their brackets and hope to win bragging rights for the rest of the year (and maybe a few bucks, but we don't run that kind of tourney pool around here). At the Dewey household it's no different. Kim Raine and I have filled out our brackets, and the trash talking has already started. Nobody's really quite sure what Raine says, but I'm pretty sure it's something along the lines of "You don't stand a chance." True to form, Raine is in the lead after the first round. She has 22 points, I'm in second with 20 points and Kim is one behind at 19. There are a lot of games still to be played, so we'll see who comes out on top.