My IT department finally got around to restoring my login rights on this blog so I can post again! There hasn't been a whole lot to post — I'm doing well just to keep up with the kid blog — but I wanted to post this photo.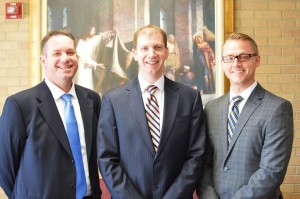 On August 11, at the ripe old age of 35, DJ was sustained as the Bishop of the River Trails Ward. Here he is with his counselors, Bryan Boyer and James Walker, shortly after they were set apart. I wanted to document how young and fresh they all looked going into this little endeavor so we can contrast how old and haggard they look five years from now!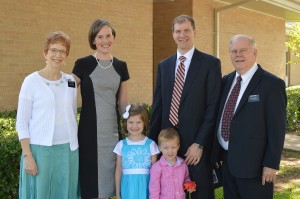 Grandma and Grandpa Dewey were able to leave their mission for the weekend to support DJ on his big day. I find it interesting that DJ's mom wasn't surprised at all when he called to tell her about his new calling — heaven knows the two of us were about as shocked as two people can be!