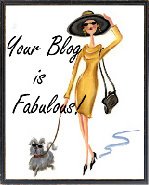 I usually never win anything, but recently I was awarded the Fabulous Blog award by my sister-in-law Sarah. There are certain obligations that go with acceptance of this award (see below) but before I get into that, I would like to share five reasons why I think Sarah is fabulous:
Sarah is a social maven who effortlessly makes everyone in a room feel welcome and included;
Sarah is ambitious, she sets goals and works hard in achieving them;
Sarah is very compassionate and works to make other people's lives better;
Sarah loves to have fun; and
Sarah always looks fabulous!
Now, my five fabulous addictions:
fine chocolate – the darker the better
dessert – almost anything with sugar, it is part of every well-balanced meal
saving money – I love finding good deals
reading the news – due to #5, I'm not as current on my current events as I should be
snuggling with my baby!
I think that all the blogs I read are fabulous, so if you are reading this, and you have a blog, then you are tagged.
The rules of this award are:
1. You have to pass it on to 5 other fabulous blogs in a post.
2. You have to list 5 of your fabulous addictions in the post.
3. You must copy and paste the rules and the instructions below in the post.
Instructions: On your post of receiving this award, make sure you include the person that gave you the award and link it back to them. When you post your five winners, make sure you link them as well. To add the award to your post, simply right-click, save image, then "add image" it in your post as a picture so your winners can save it as well. To add it to your sidebar, add the "picture" gadget. Also, don't forget to let your winners know they won an award from you by emailing them or leaving a comment on their blog.