I was just thinking about the value of a piece of paper. It's not something you would immediately think of as being valuable, and I guess it's not. It's actually what is printed on the paper that gives it value, not the paper itself. Kim recently received a piece of paper that I consider very valuable. This piece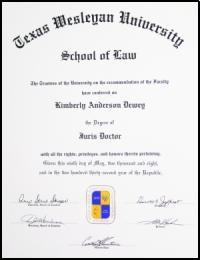 of paper was only obtained after much stress and heartburn, thousands of hours of hard work, many sleepless nights and significant financial backing. It was all worth it. It is with great pleasure that I present… Kim's Law School Diploma.
In the graduation ceremony it was stated several times that actual graduation was "contingent on the successful completion of all course requirements" since grades for the final semester had not been submitted yet. Although there was never any doubt that Kim would pass, it's nice to have the official piece of paper. We also received the final class rankings, and Kim graduated 13th out of 137 students, in the top 9% of the class! In the business, we call that Cum Laude.