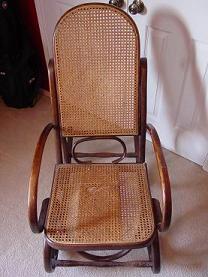 When we lived in Pittsburgh we bought a bentwood rocking chair at a garage sale for $10. It wasn't in the greatest shape, but we thought it would be nice to have. We recently decided the chair needed some help before we could use it in the baby's room. The caning on the seat was torn and a support board had been placed underneath—not real comfy. The caning on the back rest was starting to break too. The finish was wearing off the arm rests, there were white scuff marks in several places, and the whole chair just looked old and worn.
Since I have been such a handy-man lately I decided that if I simply refinished it and replaced the caning then it would look really nice—and be much more comfortable. I could see the potential. How hard could it be right?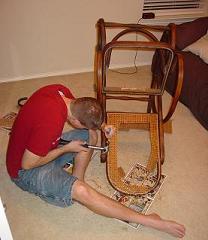 I figured it would just take a weekend or two to strip down and refinish the chair and it would look brand new. Well, here I am almost 2 months later and I am finally halfway done! The first step was to remove the old caning and spline. Let me tell you, removing that stuff is no simple matter. I had to order a special caning chisel to get the job done. Without that chisel, getting the spline out of the groove would have been darn near impossible. Even with the special chisel it took me a week to get it all removed.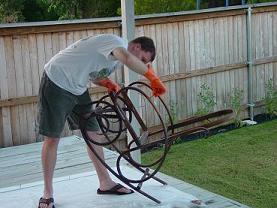 After the caning was removed I could start stripping the finish. I originally thought I would take one Saturday and get the chair all stripped down. By the time I called it quits for the day I had wasted most of a can of finish remover and the chair didn't look much different from when I started. I realized I would have to be more patient and focus on one small section at a time. It took me somewhere around 15 sessions to get the chair totally stripped.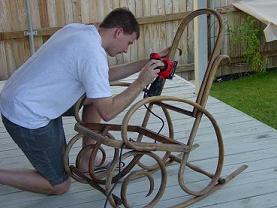 Next came the sanding. There were still several patches where the finish hadn't come completely off and there were a few rough areas from the scraping. With the help of my trusty new hand sander I approached sanding the same way I did the stripping — one section at a time.
It took less than half as long to sand as it did to strip, and finally I have… a naked chair!! Now I just have to re-do everything that I have undone and the chair will be as good as new. Should be a walk in the park, right? Stay tuned for further updates.